As an academic, I routinely present scholarly seminars. I do not list these here. If you attended one of my talks and are interested in getting hold of my slides including slides from my courses, then please e-mail me at my University of Auckland email address. I am happy to share. Here, I only list talks of a non-technical nature given to a wider audience.
In August 2020, I gave a talk on "Decision Making in Pandemics" as part of a symposium on the response to Covid-19. This link will take you to the video of the presentation. Originally, this event was scheduled to be held in the Banquet Hall of Parliament, hosted by MP David Seymour. But, due to a lock down in Auckland at the time, I ended up delivering this talk remotely. If interested, here is the Programme for the Symposium. This link takes you to the symposium page and this link takes you to the Covid Plan B Page, which provides an overview of the work we have done in providing an alternative perspective to the received wisdom on the Covid-19 pandemic.
In November 2019, I gave a talk on "The Economics of Fairness" as part of the University of Auckland's Spring Week on Campus. I also gave a version of this talk to the Annual Meeting of the New Zealand Commerce and Economics Teachers Association in September 2019.
Media Coverage
I write extensively for the media on the basis of my own research findings. In fact, I prefer to write things up on my own rather than put out press releases in order to ensure greater accuracy in what gets written up. Much of this is available on the page on "Popular Writings". Nevertheless, a lot of my work does make its way to the popular media frequently. These are too numerous to keep track of and list. Here is a selection of some of these.
Media Appearances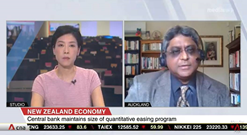 Media coverage